Hungerford & District U3A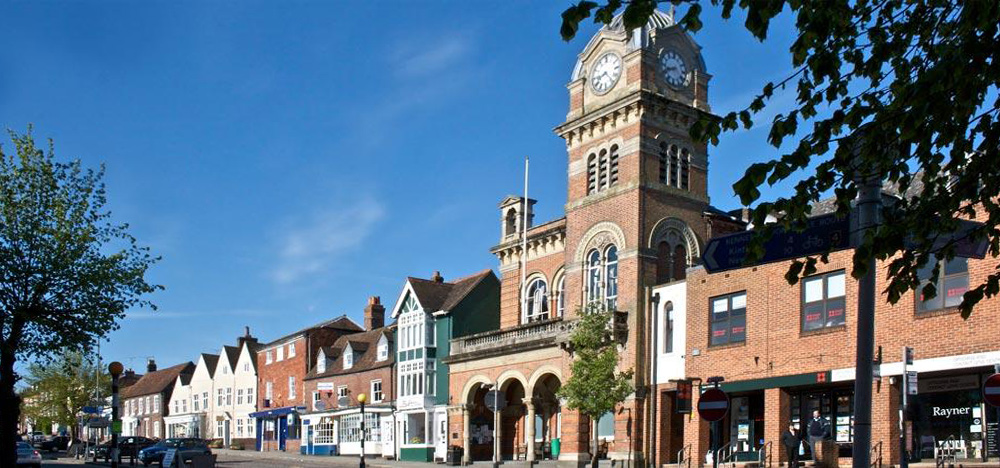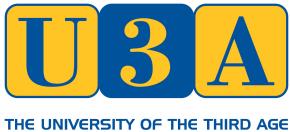 Learn, Laugh and Live!
Are you recently - or indeed long - retired, or winding down from full-time employment and looking for new interests? Or to take up again the interests you've never had the time to pursue?
If you are in this so-called 'third age' and would like to learn some 'new tricks' – then read on, because this exciting new venture is for you.
The University of the Third Age is all about bringing like-minded people together in small interest groups to explore learning opportunities in almost every subject you can think of, from Aromatherapy to Zoology!
There are over 900 U3As in the UK with more than 350,000 members. Each one is run on a 'self-help' basis with individual groups deciding how to go about exploring something new, and sharing valuable life experience and expertise. There is no pressure to impose a formal learning pattern – it's all about establishing an informal, enjoyable way to learn with and from each other about a topic of mutual interest.
---
Membership Application or Renewal for 2019/20
Please visit the
Contact
page to access application and renewal details.
---



---
Events Calendar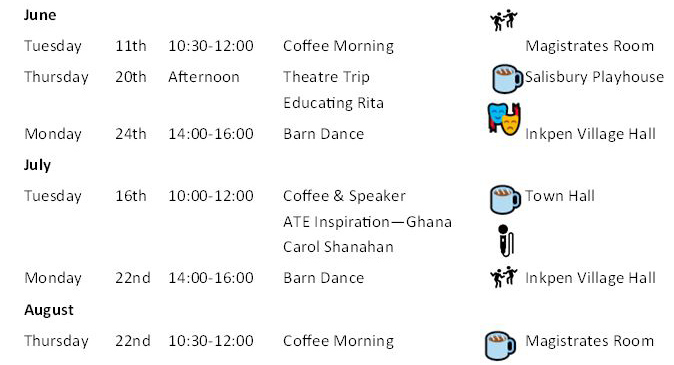 ---
Theatre Visits
---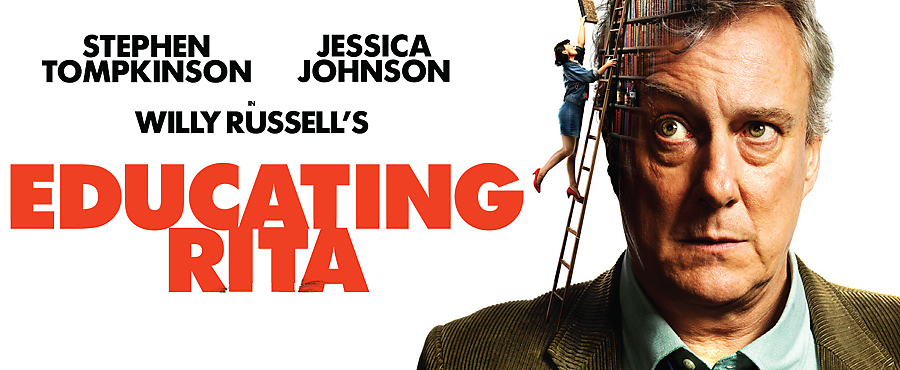 By Willy Russell
Salisbury Playhouse - Thursday, 20 June 2019
£30.00 inclusive
When married hairdresser Rita enrols on a university course to expand her horizons, little does she realise where the journey will take her.
Starring Stephen Tompkinson as Frank and Jessica Johnson as Rita.
Please contact Margaret Barter by telephone or via the contact page on the website.
---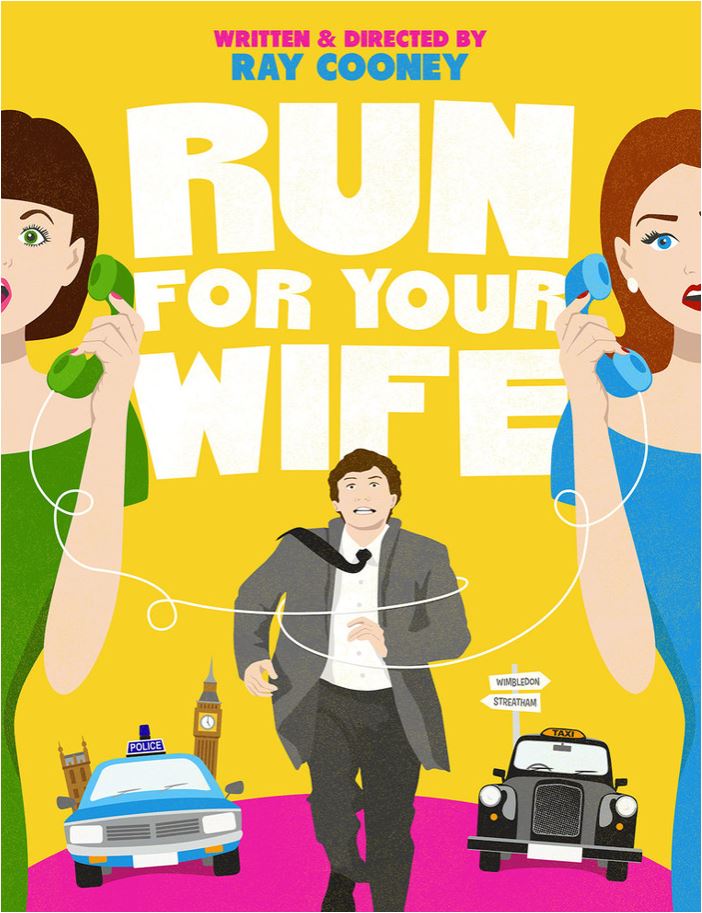 RUN FOR YOUR WIFE
Ray Cooney's Smash Hit Comedy
Thursday, 10 October 2019
£65.00 Inclusive of tickets, travel and dinner
The Mill at Sonning
John Smith is a happy London taxi driver, working shifts. But he has one little problem. He is married. Twice! He has one wife, Mary, in Wimbledon. And another wife, Barbara, in Streatham. John keeps to a rigorous schedule so that never the twain shall meet. Everyone is blissfully happy - especially John Smith! One day, gallantly intervening in a mugging, he is taken to hospital with concussion. The police become involved. John panics and enlists the help of neighbour Stanley. Bad choice! Stanley is shambolic, disorganised and when it comes to conniving - clueless! The hapless duo embark on a series of wildly implausible explanations. The more they lie, the deeper the hole they dig, and the situation all starts to go horribly but riotously wrong.
Dinner is from 6.15 to 7.15 and the play begins 8.15 and is due to end at about 10.30 which means we won't be back until about 11.30
Please contact Margaret Barter by telephone or via the contact page on the website.
---
Groups
Over 20 groups are now up and running (including walkers and Art practical). Please visit the Groups page to see the latest information.
Next scheduled walk
SHORT WALK:

28 May 2019 Start: 10:00 Distance: Aprox 5 miles

Leader: Peter Camfield Contact:

lizandpetercamfield@gmail.com

Please meet at the village hall car park at East Garston (RG17 7EX ) at 10.30 am for circular walk from East Garston via Woodland St Mary. The walk has a moderate climb out of Eastbury, but has stunning views of the Lambourn valley. Please bring a a drink and snack with you for a break half way round. Optional lunch at the Queens Arms afterwards.

Link to walks page
---
Sponsored Walk for Prospect Hospice.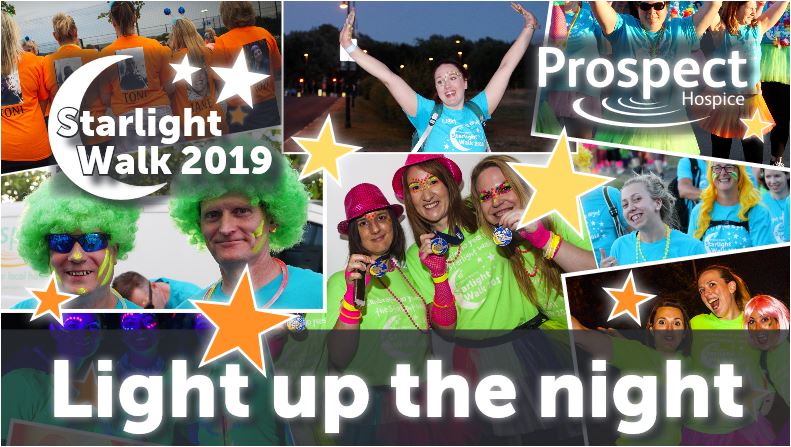 Some of our members are taking part - why not join them?
Location: Swindon Town Football Club, Swindon, UK
Start: Saturday 22nd June 2019 @ 8:00pm
Registration: £15
Suggested Sponsorship: £100
Light up the night for our nursing care this June. Join hundreds of other walkers on a 10km or 15km circular route around Swindon, dressed in your Starlight Walk event T-shirt and your most brightly-coloured, glowing or lit up
outfit! Don't forget to look out for our very special illuminated areas along the route as well.
All the sponsorship raised at this event goes directly towards supporting our nursing care in your community.
www.prospect-hospice.net/product/starlight-walk/
---
---
Motoring Matters

The Motoring Matters Group has had some great visits recently, to the Beaulieu Motor Museum and the Royal Air Force Museum at Hendon.

We have regular pub meets for a natter about all things motoring, our next discussion will be Wednesday 17th April at East Garston.

Our next scheduled visit is to the National Kit Car Motor Show, Stoneleigh on 6th May. Please contact the Convener John Turton for further details.
---
More Information
There will be meetings of the whole U3A from time to time to listen to specific speakers and discuss progress. If you would like to provide any feedback - or offer to help - please use the contact form, we'd love to hear from you.
You can also use the contact form if you need any further information.
---
© Hungerford & District U3A 2019